College apartment decor is important to making a plain apartment feel like home. Moving into your first college apartment? Life after the dorms moves fast! You have to find roommates, pick an apartment that you all can agree on, and then furnish it!!!
When you're running on a tight budget and trying to get everyone to agree on everything, it can be tough picking pieces. Not with this list! This list shows all the best college apartment decor must-haves for moving into your first apartment. It's exciting moving into a blank canvas. We'll go over all the rental hacks you need to know about to make the place your own.
Many people would actually be surprised how much you can do to an apartment without causing damage or risking your security deposit. Here's how it's done!
This site contains affiliate links to products. We may receive a commission for purchases made through these links at no cost to you. Read full disclosure here.
1. Add Tons of Plants
Plants can add a nice pop of color and really brighten the place up. Plants are also relatively inexpensive to come by! Furnish your apartment with tons of plants to make the place feel nice and alive.
2. Put Down a Big area Rug
Big area rugs can really pull a room together. Add a big area rug for some pattern and pops of color.
Area RugBuy On Etsy
3. Use Lots of Throw Pillows
Hello, who doesn't love pillows? You can get plenty of inexpensive throw pillows from Ross or Marshalls. Add variety to your home with different shapes and textures of pillows. Plus, it adds more comfort to your home and is perfect for curling up on the couch during a rainy day.
4. Hang Wall Prints
Wall prints are relatively inexpensive to get and can give your home a more modern eclectic feel. Mix and match frame sizes and colors for a unique look. Wall prints are a decor idea that everyone can chip in for because it isn't asking too much! Etsy has so many cute prints from independent artists to pick from.
5. Grab Some String Lights
Soften the place with some adorable string lights. Girls moving into an apartment together HAVE to have string lights! If you have a porch or a balcony, hang lights from the banister for a beautiful backyard hangout.
Fairy LightsBuy On Etsy
6. Stick on Some Backsplash
Stick-on backsplash is amazing! You can "redo" your kitchen on a budget, and you won't risk damage. Some of the apartments around college towns need something extra. A stick-on backsplash can be the perfect type of decor to take your apartment to the next level. This way you can feel kind of fancy.
Adhesive BacksplashBuy On Etsy
7. Throw Up Some Adhesive Wallpaper
Just aligned with the stick-on backsplash is adhesive wallpaper. This kind of wallpaper has just enough stickiness to stay up, but it won't cause any damage to the walls. This wallpaper is perfect for the girls who want to make a statement with an accent wall.
Adhesive WallpaperBuy On Etsy
8. Make it Boho
A boho theme is great for a college apartment. It's minimalist, light, and bright. A boho theme is so simple to recreate, and it's easy to get your roommates on board with this idea. Because who doesn't like boho!?
9. Don't Forget the Coffee Bar
Every college student knows that coffee is essential to making it through the day. You're juggling a full class schedule, maybe labs, and probably some sort of extracurricular. A coffee bar is super easy to create and is convenient in every way. It will take no convincing to get your roommates to participate on this one.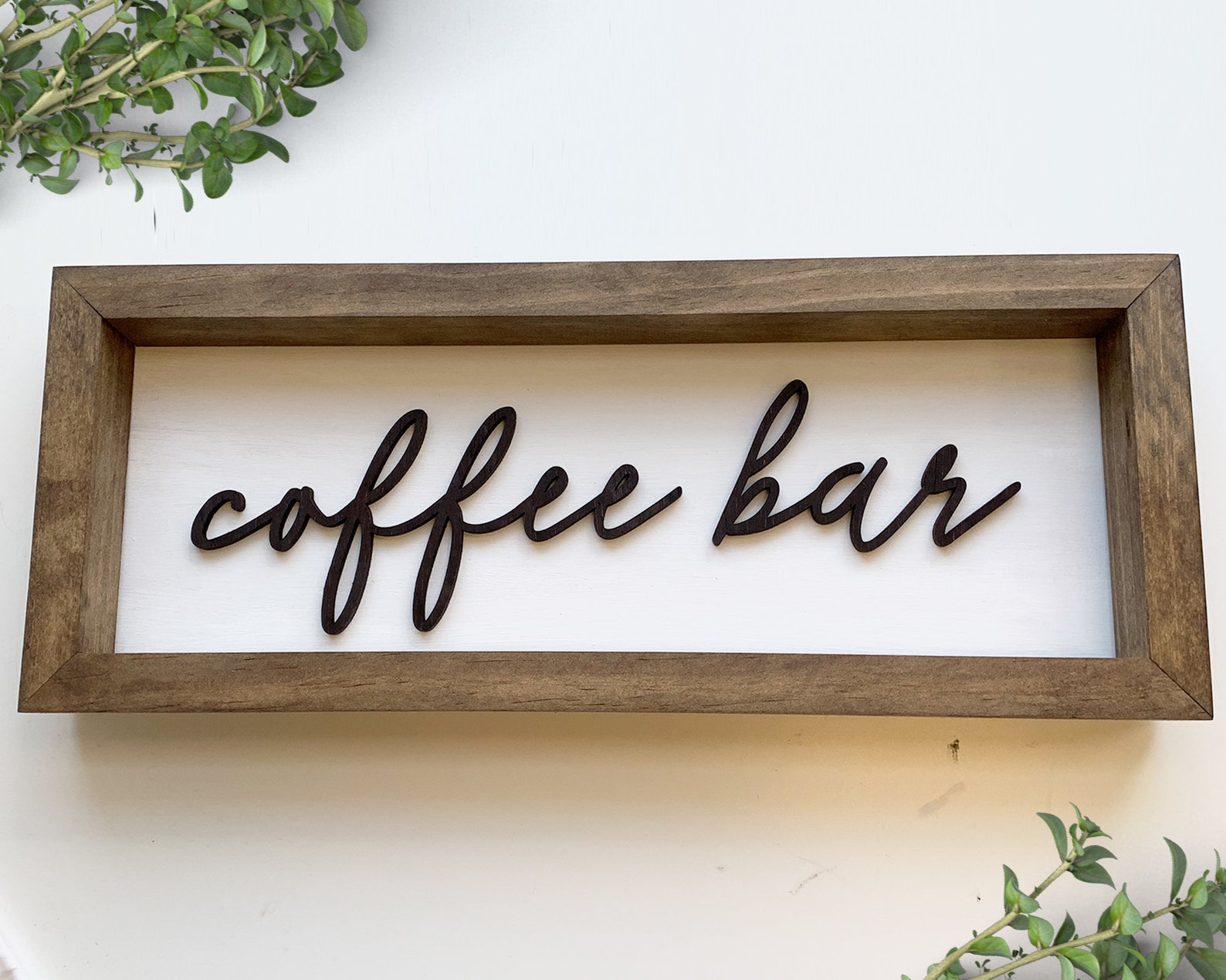 Coffee Bar SignBuy On Etsy
10. Or the Bar Cart
You may be limited on space, and not everyone is bougie enough to have a full wet bar in their apartment/house. A bar cart is a perfect medium to make a cute arrangement for entertaining yourself and your guests. Every college student knows that at the end of a tough week, a drink is essential.
Bar CartBuy On Etsy
11. Add Copper Accents
I don't know what it is about copper and metallics, but they really make a statement! You'll need cookware and dishes anyway, so try going with something metallic. Besides, you can include copper mule mugs on your bar cart for even more flair.
Copper MugBuy On Etsy
12. Down to the Soap Dispensers
When pulling everything together, every detail matters! These cute soap dispensers seem simple, but they add an extra organized look to the kitchen or bathroom.
Soap DispensersBuy On Etsy
13. Mirrors are Essential
You can't possibly go out without checking your fit first! A mirror is not only essential to seeing your outfit, but it's essential for opening up a space. Your apartment will probably be small, so make it feel a bit bigger by including an oversized mirror.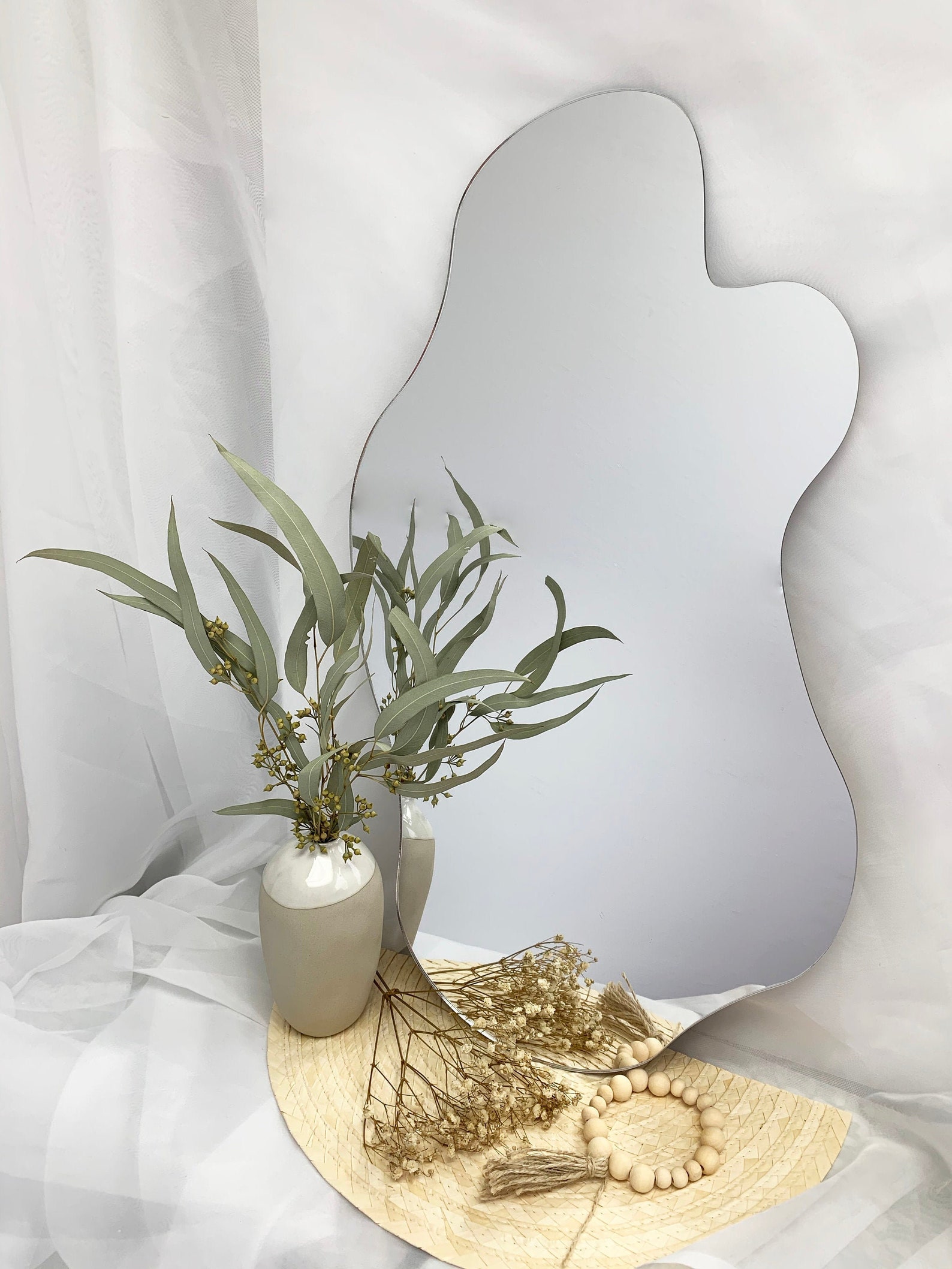 MirrorBuy On Etsy
14. Throw Down the Blankets
A throw blanket includes a great accent to the living room. Color coordinate your throw blanket with the pillows for a pulled-together look. Blankets are also nice for cozying up on the couch for a movie night in!
Throw BlanketBuy On Etsy
15. Put Blankets in a Blanket Basket
Okay, so you can't have the blankets thrown out all of the time, can you? Get a cute little blanket basket to throw your blankets in. This definitely fits with a minimalist boho vibe if that's the goal you're going for.
Wicker BasketBuy On Etsy
16. Mount a Bedside Table
This is a beautiful minimalist idea for a bedside table. Mount a bedside shelf! It adds dimension, shape, and clean lines to a room. Plus, it doubles as extra storage.
Floating Night StandBuy On Etsy
17. Get Creative with Bathroom Storage
You can make your bathroom cute, too. If you're sharing a bathroom, which I'm sure you will be, add extra storage. This will keep everything neat and organized. I love these shelves because there's so much storage, and you can easily hang a towel off them to dry.
Bathroom StorageBuy On Etsy
18. The Kitchen Counters Need Love Too
Don't forget to bring organization into the kitchen. You'll want to pay the most attention to common areas because these are what people will see when they visit. Here are some cute organization ideas!
Kitchen LabelsBuy On Etsy
19. Hide Storage Under the Bed
Keep your room looking tidy and minimalist with under-the-bed storage. This keeps things out of the way and makes your room look much more organized than it might be! Hey, it's hard juggling college and a pretty-looking lifestyle!
Under Bed StorageBuy On Etsy
20. Place Pampas Grass
Pampas grass is so cheap and affordable to decorate your apartment with. I also don't know what it is with pampas grass, but it's so cool. Put it in a fun vase to match the rest of your apartment theme!
21. Turn on the Tunes with a Record Player
Get retro with a record player. This is such a fun piece, and other people will love it too. Get your roommates to contribute their records to make a complete collection. Put the records on before a night out to get yourselves in the mood!
22. Lounge on a Sectional
The best way to come across a comfy sectional for cheap is to find other people who are moving. I scored a really nice brand new sectional from a friend that was moving out of her apartment. The best thing was, it was free! Check Offer Up and Facebook Marketplace for free or inexpensive furniture.
23. Find a Matching Wine Glass Set
You can find matching wine glasses from Marshalls or Ross. These go for only $8. Wine is vital as a college student, so sip it in style.
Wine SetBuy On Etsy
24. Fluff Up the Floor Poofs
Furniture is hard to move around, and it can be expensive. Floor poofs offer comfy seating and can easily be put away for a party.
25. Make it Retro
Take a chance by clashing colors and putting up vintage play posters. This can give your apartment a vintage, retro feeling. This, along with a record player, will turn back time in your apartment!
26. Fancy up a Futon
A futon is an affordable living room essential. This is the perfect small piece of furniture to put in your apartment and can be moved around easily. It's also perfect for transitioning into a bed when you have guests stay the night.
Japanese Floor FutonBuy On Etsy
27. Create a Daybed
I love this idea. Transform your room into a cozy area to have guests. Sometimes you need to keep the party to just your room, especially if you have a big exam coming up! Moving a twin bed around is also much easier than lugging a queen mattress.
28. Faux Cowhide Rug
Cowhide is expensive and not vegan-friendly! A faux cowhide rug adds a unique touch to your apartment or bedroom. Your friends will definitely be jealous of this college apartment decor idea.
Faux Cowhide RugBuy On Etsy
29. Don't Forget the Bookshelf
One way to step up your apartment and make it look sophisticated is to throw in a bookshelf. You can add books, of course, but you can also add candles, flowers, vases, and PAMPAS GRASS!
30. Include a Sofa Table
Spruce up the living room even more with a sofa table. This is definitely an underrated decor move, in my opinion!
Sofa TableBuy On Etsy
31. Put Down a Cute Bathmat
Get clever with a cute little bathmat. You can use this to add a pop of color to the bathroom, too!
32. Study at a Simplistic Desk
Studying is what you'll be doing a lot of in college. You'll need a sturdy desk to study at! Make it cute and comfy, so you can bear to sit there for hours at a time when exam season rolls around.
33. Create a Pinboard
Sometimes you need a little inspiration with your aspirations. Create a pinboard to show yourself all the goals you want to achieve!
Pin BoardBuy on Etsy
34. Lean a Blanket Ladder
This college apartment decor idea may not seem unique, but I have never seen anyone with one! It's such a cute way to organize your throw blankets and makes them easy to grab and hang up.
Blanket LadderBuy on Etsy
35. Go Rustic
You can keep it clean and classy with a rustic theme. This doesn't have to be tacky mom farmhouse either! Pick out woods and whites for a simple and clean-looking theme.
36. Pop the Color
Choose something that puts you outside of your comfort zone, like a pink chair! Add pops of color to make the space your own. This is one of the more unique college decor ideas.
Pop of ColorBuy on Etsy
37. Place Adhesive Flooring
Do you hate tile floors? Yeah, it's hard to find an affordable college apartment that's up to date. Adhesive floor tiles are a great way to redo your apartment without risking your security deposit. I would only do this if you're planning on staying in the apartment for a couple of years!
Adhesive FlooringBuy on Etsy
38. Install a Headboard
Check out all our ideas for headboards! A headboard can really bring your room together and make it look sophisticated.
HeadboardBuy on Etsy
39. Candles, Candles, Candles
Who doesn't love candles? They look cute, and they smell great. Candles are really nice in the nighttime for a soft glow in your apartment. I'm sure your roommates will already be bringing a ton of candles. You can't have college apartment decor without candles!
40. Spritz Some Room Spray
Room spray is also essential for freshening up the place. Are you expecting guests soon? Tidy up and spritz some room spray to make the apartment smell refreshed.
Room SprayBuy on Etsy
41. Hang a Clock
Clocks are also super underrated, in my opinion. This flip clock is my FAVORITE piece in my apartment right now. This freaking clock gets so many compliments it's crazy. Make a statement by hanging a cool clock!
ClockBuy on Etsy
42. Ratan Cabinets are in
Keep on the boho theme with ratan storage. A lot of ratan cabinets can actually be DIY'd from old ones! It could be a fun project. Or, go to the thrift store and seek something ratan.
Ratan CabinetBuy on Etsy
43. Decorate Above the Bed
Pull your room together by drawing your eyes to your bed. Add art above your bed to take your room up a notch. This is another of my favorite college apartment decor ideas.
Wall PrintsBuy on Etsy
44. Float Your Shelves
Floating shelves are organized and clean-looking. They're also insanely cute. You can add little minimalist decorations to them to make them stand out!
Floating ShelvesBuy on Etsy
45. Keep it Minimal
Here comes the last of our college apartment decor ideas. At the end of the day, you're going to have to move your furniture in then out. Keep the space minimal not only to keep it open but to save yourself when you move!